16
« on: March 22, 2010, 10:37:46 pm »
Hello everyone, Nashville is in a couple days so I thought I would bring this up now. I have made a twitter account dedicated to ANY and ALL Oklahoma teams that go to an MLG event (Pro Circuit or Combine). The purpose for this twitter is to update on how these teams are doing for all of you who could not or just chose to not go.
I will be getting updates from one of the players throughout the day and I will update them to the twitter. The twitter account is
www.twitter.com/OK_Updates
Want these updates sent to your phone via text message? Here's how:
Step 1
: (If you already have a twitter account skip to step 3)
Go to
www.twitter.com
and on the front page click 'Sign up now'
Step 2
:
Fill out the appropriate fields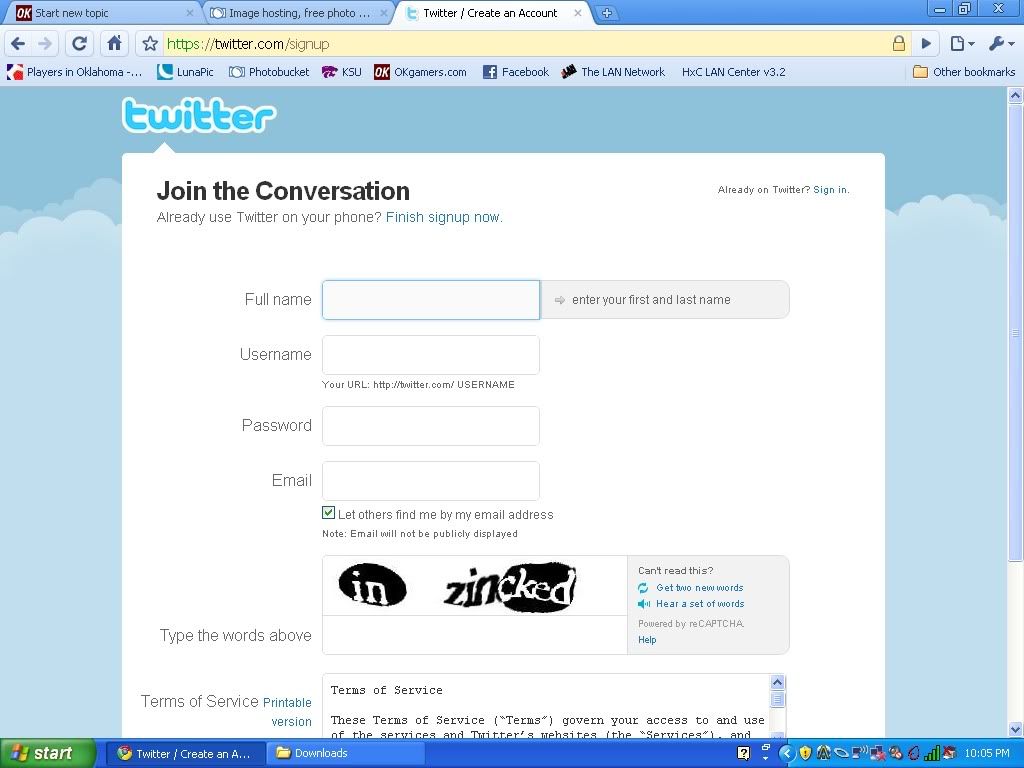 Step 3
:
Click settings at the top right corner
Step 4
:
Click mobile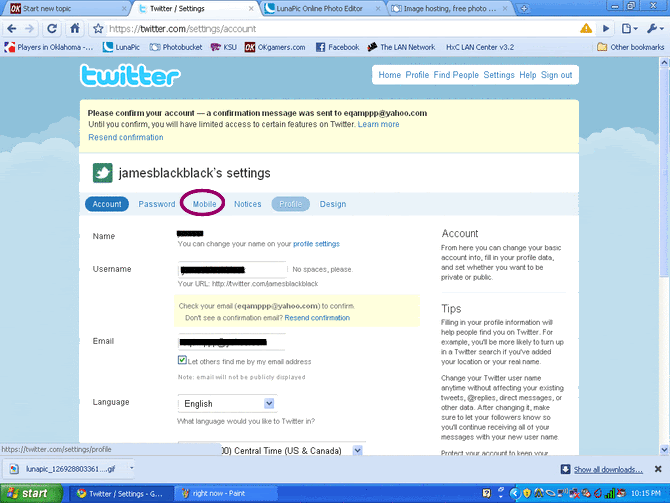 Step 5
:
Type in your phone number and then confirm your phone.
Step 6
:
Go back to
www.twitter.com/OK_Updates
, and and click 'follow'
Step 7 AND LAST STEP!
:
To the right of where you just clicked should pop up two small circles, click on them until they are BOTH green
I only have one green circle because I couldn't register my phone on another account, but if you register your phone correctly on your account there will be two circles.
It may seem like a bunch of steps but they are VERY easy steps, but if you have any problems or questions feel free to ask.
And if you are hesitant to sign up because you don't want a ton of pointless text updates DON'T WORRY! I will not update things such as 'Eating a donut', 'Waiting for next round' etc. And I will RARELY, if ever, put out tweets when there is not an event taking place.
So far I have only been told that Oklahoma has one team going to Nashville. Made You Look: DrViper - G Wade - Twitch - BigRed
If your team is going and wants to be on the twitter feel free to message me on here and I will give you my phone number, you will then need to text me your team name and team members and then whenever you text me during the event I will post it on the twitter.
I will also be sending out a test tweet on Thursday, so it would be best to sign up before then so you can figure out if your text updates are working or not.
Any questions feel free to ask.